EVENTS AND ADVERTISERS
COFFEE FOR THE ARTS FUNDRAISER
IF YOU DRINK COFFEE, CHECK THIS OUT!
Kinetic Revelation, our dance and theatre arts studio, is working with an organization called Coffee for the Arts which produces a very high-quality coffee subscription service. The coffee is Fair Trade and single origin. Each month, CFTA subscribers will get to experience the best coffee beans from around the world according to the harvest season. CFTA roasts the beans themselves, and they do not blend the beans to cheapen the product. They use truly single origin coffee beans.

Once the beans arrive each month, they begin the process of profiling the roast. CFTA Roasters taste test every roast until they are happy with the result. Once the profile is perfected, they roast to order and ship it out to the studio or directly to your home (your choice)
*Coffee shipped within 48 hours of roasting!
*You can choose to have them grind the beans or not.
*CFTA coffee works in single-serve coffee makers with the attachment.

SUBSCRIPTION COST
CFTA subscriptions are $14 a month with free shipping. You don't even have to leave the house to get great-quality coffee!

GIFT SUBSCRIPTIONS
Coffee subscriptions make great Christmas gifts! Each subscription will have its own login, online, so you can purchase as many as you'd like. If you'd like a bag of coffee to put under the tree, you can have the subscription sent to your house, then change the shipping address after you give the gift.

Click below to change where you purchase your coffee and support Kinetic Revelation through CFTA!
2017

MOSCOW BALLET'S THE GREAT RUSSIAN NUTCRACKER 25th ANNIVERSARY TOUR
We were privileged to have our students, along with students from En Croix Ballet and other area studios, dance in The Great Russian Nutcracker! It was a beautiful show with stunning props, sets, and costumes, and was performed at the Embassy Theatre on December 5, 2017.
---
CANVAS, COFFEE, COCOA & CREATIVES! SATURDAY, NOVEMBER 18 FROM 3:00 TO 9:00
THE EVENT!
Drink fabulous, single source coffee or choose cocoa, paint a picture to hang on your wall or give as a gift, support Kinetic Revelation's studio projects, shop our vendors, kick off the holiday season, and have a marvelous time! We have two parties with shopping in between! 3:30 for families, and 7:00 for adults only! See the bottom of this description for costs and schedules. PLEASE REGISTER BY NOVEMBER 12!
GOD'S PRINCESS DANCE DAY CAMPS!

GOD'S PRINCESS DANCE DAY CAMPS!
Your little princess will delight in four days of dancing, crafts, and learning about princesses in the Bible!

Creative dance, a little ballet, Bible stories and verses, and crafts are all a part of this enchanting summer day camp experience! Each day, we will explore a different princess and how one of her character traits can help us in our own lives and walks with God. From the courage of Esther to the devoted love of Mary (Martha's sister), and more!

Each girl will take home her crafts as well as a special gift at the end of the camp, and we will have an end-of-camp demonstration of what we've learned on the final day. Christ-centered music is used throughout the camp, as well as some instrumental ballet class music.

Camps are taught by Kinetic Revelation's director, Kimberly Bronson, who has more than 30 years of teaching experience, and she can't wait to meet your girls and you!

"I am a princess because I am a daughter of the King!"


---
INSIDE SPACE

Inside Space, where emotions come to life and go on a zany adventure with Jesus to find their place in the life and solar system of a teenage girl. Meet a half-octave of emotions whose harmony or dissonance impact this symphony of feelings, memories, song, and dance, as they join with the song that was placed in the universe at creation.

Inside Space includes excellent live musicians, inspiring music, experienced actors (as well as a few newer ones), and dance.

Our raffle and silent auction included awesome items like a 31 Bag, a Raindrop Essential Oil Session, an essential oil diffuser necklace, a canvas print, and more, and raised funds for our dance floor.

---
2016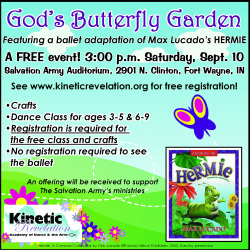 GOD'S BUTTERFLY GARDEN, featuring HERMIE, A COMMON CATERPILLAR
Imagine your daughter's delight at a free ballet performance, ballet class, craft and gift! And this free event is open to the community! It begins at 3:00 on September 10, 2016, with a ballet adaptation of Max Lucado's HERMIE, THE COMMON CATERPILLAR (copyright Thomas Nelson Publishing, used by permission). At about 3:30, audience members will be released and registered participants will split into two tracks, one for 3-5-year-olds and one for 6-9-year-olds, for their dance class, craft, and FREE GIFT!
CHECK-IN begins at 2:30 p.m. Please note, whoever is picking the child up must have the pick up key that will be given to the person who drops them off.
Parents and friends will be welcomed back at 4:25 for a short demonstration of what we've done and the children will be released at about 4:40 to the person who has their key. Each registered student will receive a FREE GIFT to take home!
A free-will offering will be received to support the ministries of Salvation Army.
---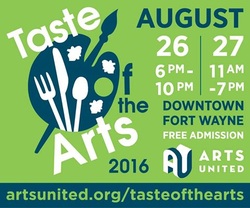 See our original production of Mercy's Pen for FREE! Join us as Kinetic Revelation presents MERCY'S PEN at 6:30 p.m. on Saturday, August 27 on the Arts United Main Stage, 303 E Main Street, Fort Wayne, Indiana. The building is between Freiman Square and the Fort Wayne Museum of Art.
---

Saturday, June 11 and Sunday, June 12
Two one-act productions! Jennie Bishop's beautiful children's book THE SQUIRE AND THE SCROLL and our new original show MERCY'S PEN are both about weathering difficult times with pure hearts and faith. Family friendly and faith-building, you'll hear music that will inspire you and a message that is life-changing, presented through dance and drama.

"This has been a very hard year, and I've had trouble keeping my eyes off of the loss and on the goodness of God. This helped me refocus and remember who Jesus is and who I am to Him." Mrs. D
---
Please see our Advertisers and Supporters list at the bottom of this page, visit them, and tell them thank you for supporting us!
2015
Kinetic Revelation will performed excerpts from THE QUEST AND THE KEYS at Taste of the Arts on August 29, 2015. This wonderful community celebration of all that Fort Wayne has to offer in fine arts is always a summer highlight!
---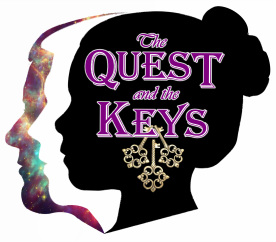 Saturday, June 13 at 7:00 p.m., and Sunday, June 14, at 3:00 p.m.
2015 at the Salvation Army Auditorium, 2901 N Clinton, Fort Wayne, Indiana, 46805.
THE QUEST AND THE KEYS is a story about identity and purpose through dance, drama and music. Two children are transported into an alternate world where they are given a quest to find the identity of a princess who has forgotten who she is. Through many interesting characters, they learn not only who the lost princess is, but also who they are, and keys to hold onto that knowledge for the rest of their lives. Powerful music and scriptural concepts punctuate a message which can change the way you look at yourself.

"What a powerful representation of truths in the Kingdom of God! The foot washing scene brought tears to my eyes. We were surprised when the lead found out that she was the princess she'd been searching for all along and we loved the dances!" Mr. and Mrs. B
---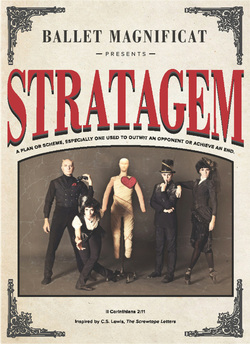 Kinetic Revelation hosted BALLET MAGNIFICAT, America's premier professional Christian ballet company on March 12, 2015.

They performed their newest ballet STRATEGEM, which is inspired by CS Lewis' The Screwtape Letters. Strategem reveals the great spiritual battle being waged by Satan and his demonic forces. The story is told from the perspective of our enemy in order to reveal to us the extent of demonic activity that affects our lives as humans, Christians and non-Christians alike. This ballet is an exposition of such a real and pertinent battle, and is presented in an artistic and theatrical fashion. With opposing angelic forces, complex human characters, and a set of quirky, precocious demons, audience members are invited to partake in a playful yet sobering story of temptation and deception.
---
2014
TASTE OF THE ARTS
​On August 23, we performed excerpts from THE VOYAGE OF THE DAWN TREADER for Taste of the Arts, a free festival in Fort Wayne where artists from the area perform on many different stages, and great food and fine arts vendors are there to make the experience even better! We hope to make this a regular thing!
---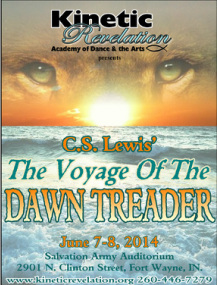 C.S. Lewis' THE VOYAGE OF THE DAWN TREADER, adapted by Kimberly Bronson.
Licensed by C.S. Lewis Company, Limited
Directed by Kimberly Bronson and Jeff Salisbury

Performed on June 7 & 8, 2014 at the Salvation Army Auditorium, 2901 N Clinton St, Fort Wayne, IN 46805

Join us as the Dawn Treader sails to the end of the world and back in search of the seven lost Lords. Meet Lucy and Edmund Pevensie, ancient sovereigns of Narnia, Eustace Scrub, their difficult cousin, along with King Caspian, and the valiant mouse, Reepicheep. Most importantly, meet Aslan by his other name.

Our original stage adaptation of CS Lewis' classic work is authorized by the CS Lewis Estate, and is a full -scale production with dance and drama.



---
2013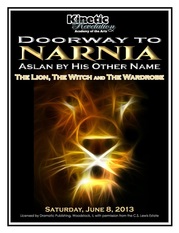 CS Lewis' THE LION, THE WITCH AND THE WARDROBE, adapted by Kimberly Bronson
Licensed by Dramatic Publishing.
Directed by Kimberly Bronson and Jeff Salisbury

A story of adventure and redemption through drama and dance, opening the door to an unseen Kingdom.Our costuming is inspired by "The Lion King" on Broadway, and our masks are being made by local artists. This is a full-scale theatrical production, *family friendly, and there is something for everyone! Updated to be even better than last year's production!

"A worthy adaptation that captures the essence of the book." Reviewer
"Magical, charming and powerful! Wonderful acting, too!" Mrs. S

---
2012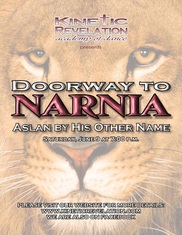 CS Lewis' THE LION, THE WITCH AND THE WARDROBE, adapted by Kimberly Bronson
Licensed by Dramatic Publishing.
Directed by Kimberly Bronson and Jeff Salisbury

A story of adventure and redemption through drama and dance, opening the door to an unseen Kingdom.Our costuming is inspired by "The Lion King" on Broadway, and our masks are being made by local artists. This is a full-scale theatrical production, *family friendly, and there is something for everyone!
---
OUR ADVERTISERS AND SUPPORTERS
We gratefully acknowledge our advertisers and supporters and ask you to make use of their services and ministries!

Thank you to: ​
CUMMINS REPAIR, INC
Hydraulic & Pneumatic Tool Repair Done right the first time!
11110 Scipio Road, Harlan, IN 46743
260-632-4800




KROEKER HOMESCHOOL ACADEMY

Greg and Miriam Kroeker

Phone: 260.436.4853

e-mail: kroekerhomeschoolacademy

​@yahoo.com

www.kroekerhsa.weebly.com

​
Kinetic Revelation Academy of Dance and the Arts • ​ 137 Chambeau Drive, Fort Wayne, IN 46805 • 260-409-8034