"Thank you for choosing music that focuses on God that I am happy to hear my daughter sing around the house!" Mrs. J
OUR CLASSES
At Kinetic Revelation, you will experience a joyful and encouraging Christ-centered environment
with great technique-based training where the whole person can grow.

Once you're finished looking over the classes we've developed for you, click on the TUITION and DISCOUNTS page
to see our affordable tuition and multi-class discounts!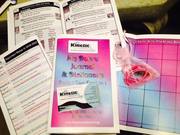 WE GIVE YOU MORE!
•Students who participate in our Spring Production receive a charm that relates to the show.
•Ballet/Tap Fusion students are given My Dance Story Journal, a booklet that includes what they'll be learning and how to do it, coloring pages, our calendar of events, sticker pages, and more!
•Kinetic Revelation is a CLI Studio partner and our students are eligible for a CLI subscription!
---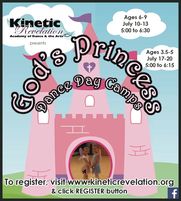 GOD'S PRINCESS DANCE DAY CAMPS, SUMMER 2017: Ages 3-5 (75 minutes for four days) and 6-9 (90 minutes for four days).
Creative dance, a little ballet, Bible stories and verses, and crafts are all a part of this enchanting summer day camp experience! Each day, we will explore a different princess and how one of her character traits can teach us about the character of God and our own relationship with him. From the courage of Esther to the devoted love of Mary (Martha's sister), and more!

Each girl will take home her crafts as well as a special gift at the end of the camp, and we will have an end-of-camp demonstration of what we've learned on the final day. Christ-centered music is used throughout the camp, as well as some instrumental ballet class music.

Girls should wear a leotard and tights but a princess dress over top is OK as long as she can move freely in it! Ballet shoes are our version of glass slippers and are requested but not required. Socks will work if needed.

Ages 6-9 Camp, July 10-14 from 5:00 to 6:30, $75 tuition
Ages 3-5 Camp, July 17-20 from 5:00 to 6:15, $65 tuition
When you register, you will pay a $5 registration fee and a $10 deposit which applies to the cost of the camp. Camp fees will be processed automatically if not paid by 5 days prior to each camp start date. Deposit is non-refundable unless we would cancel the camp. From 5 days prior to the beginning of camp (when tuition is due) until camp begins, if you give a written cancellation notice, you can receive a 50% refund of camp fees. Once camp begins, there will be no refund of fees.

"I am a princess because I am a daughter of the King!"
---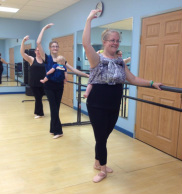 ADULT/BABY WEARING/PREGNANCY BALLET OR JAZZ: Adult class. 45-minute class, once per week
Moms, are you running on empty? Adults, have you always wanted to take or return to dance classes for fun and fitness? Refuel by investing in yourself so you have something in your tanks to give from! A dance class is a great way to do that and connect with other adults (and your baby, if you're wearing), while improving your core control, alignment, posture, confidence, flexibility, and so much more! It's an enjoyable, very low-impact workout. We may be able to arrange for childcare, if needed.

Dress Code: No leotard and tights required! Solid color (preferably black), form-fitting clothing so I can make sure your body is aligned properly (yes, when you're wearing a baby or pregnant, there are still lines!), such as yoga pants and a non-baggy T-shirt. Pink (preferred) leather ballet shoes.
*Please check with your doctor before attending this class.
---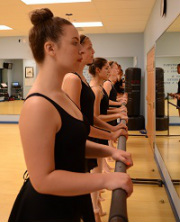 BALLET: Ages 6 to adult. Class length depends on age and experience level.
Your student's eyes will light up as they stretch, leap, turn, and learn with teachers who are all about encouragement and challenge! Watch your student blossom as he or she develops correct placement, alignment, technique, expression, musicality, poise, and life-skills. Ballet's strength, balance, and flexibility are foundational to nearly all types of dance, so it's a great place to begin and a great place to stay!

POINTE: Age 12 & up, at least 3 years of previous ballet experience, with instructor permission. A 45 to 60-minute class.
Forget glass slippers! These princesses (daughters of the King) want pointe shoes! Pointe is ballet executed on the ends of the toes in special shoes which must be fitted specifically to the individual's feet. So truly, if the prince shows up with a shoe, it will only fit the one it was intended for! It requires strong ankles, core muscles, and dedication, but the payoff is huge. There is nothing more fun than watching these girls light up when they master a new skill!
---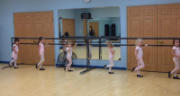 BALLET/TAP FUSION CLASS: Ages 3-7. 30 to 45 minute class, depending on level and age.
Light the fuse for the love of dance to explode and watch your child's face light up! Fusion class students get to experience the sheer joy and rhythm of tap along with the beautiful, graceful foundation of ballet, along with creative dance elements to add even more spark! We create great memories that last a lifetime and improve coordination and confidence!


---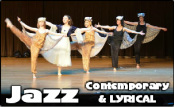 JAZZ/CONTEMPORARY: Ages 8 to adult. 30 to 45-minute class.
Students are captivated by the excitement of Jazz that is always uplifting in an atmosphere that is God-honoring. You never have to worry about the lyrics, movement, or costuming in our classes in this continually evolving discipline! From flowing Lyrical Jazz, creative Contemporary, to Broadway-style Jazz, it is one of today's most popular styles of dance, and it is full of energy! Jazz showcases a dancer's individual style and originality. A strong Ballet background is key to mastering Jazz technique, and the expressive movement is best suited for students 8 and older.

---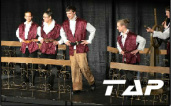 TAP: Ages 5 to adult. 30 to 45-minute class.
Imagine the joy of using your feet as an instrument and the excitement and challenge of learning simple to intricate rhythms in this percussive dance technique! Hearing beats and developing timing & musicality are key to this energetic, challenging and fun style!


---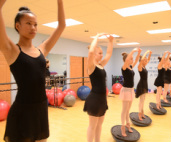 CONDITIONING FOR DANCERS: Ages 12 and up. 30 to 45 minute class and a mini-version is offered as a 15 minute add-on to some ballet classes.
Do you want a challenge that pays off? This class lets you build what dancers are made of, and it is STRENGTH! This class gives you all the tools you need to have the strong core and overall strength to flourish in dance or in life! We use many different methods and tools to strengthen and work the whole body, and we change it up regularly to keep things fresh! The girls in last year's class said that the music (including Toby Mac, Group 1 Crew, Press Play, Mandisa and more) was one of their favorite things about this class, along with marked improvement in strength and flexibility! We have a blast while working really hard! Anyone who thinks dancers aren't strong and tough would be wrong! :) And as the instructor of the class, for the first time in 20 years, my hip instability disappeared! While it is titled "Conditioning for Dancers," it would be great for anyone!
---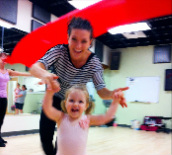 ME & MY SHADOW: Age 22-36 months with adult caregiver. 30-minute class.
"Mommy, is today dance day???" Your two to three year old won't be able to wait for her or his class! Watch your little one's eyes light up as you dance with them in this exciting, engaging, creative dance class! You will both fall in love with dance and build amazing memories that will last your whole lives! We work on large motor skills, directions (front, back, up, down, etc) following instructions, learning basic ballet, get silly, and we have a blast doing it! 10-week sessions. When you enroll your child, you are also enrolled, so it's 2 for 1!

---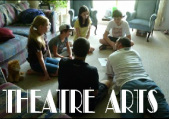 THEATRE ARTS: Ages 6 to adult. 60-minute class.
The only drama we want in our lives is on the stage! This class will let you experience the joy that acting brings to your life and the lives of others! It delves into the tools you need to bring a character to life, how to use your dramatic giftings to honor God, & you will learn to bring color to the black and white words of a script. Find out how to use your voice, analyze a scene and so much more! Your experience will culminate in acting in our full-scale spring production that incorporates acting, dance, and music.


---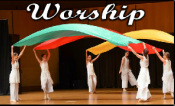 WORSHIP DANCE: Ages 6 to adult. 30 to 45-minute class.
Celebrate who God is and praise Him through worship dance! Flags, fabrics, shadowing, prayer, scripture & ballet and jazz technique are all elements of Worship Dance, and learning the technique behind them will allow you to confidently dance in worship, whether in the privacy of your own home or in a worship service where it is welcome. It is beautiful, soul-stirring way to connect with God and deepen your relationship with Him! "Let them praise His name with dancing!" Psalm 149:3


---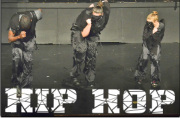 HIP HOP: Ages 5 to adult. 30 to 45 minute class, depending on age and level.
Jump into this high energy, hard-hitting and current style of dance that expresses emotion in ways that other styles don't. We explore freestyling, popping, locking, and gliding, & other popular hip hop techniques, while keeping movement appropriate. You never have to worry about the type of music or movement that we teach, and you will be inspired!


---
2016-2017 CLASSES on Tuesdays and Thursdays

To see our current class schedule and register for classes, click the button link at the top of the page!
If you want a class or a time and day that you don't see, please get in touch! We will accommodate you whenever possible!
Kinetic Revelation Academy of Dance and the Arts • ​ 137 Chambeau Drive, Fort Wayne, IN 46805 • 260-409-8034